Scottsdale, Arizona Tree Nursery
For the best selection of trees that will beautify your property and withstand the challenges the Scottsdale, Arizona climate has to offer, you can rely on the expertise of Whitfill Nursery, the Valley's original grower-direct nursery, with trees proven to survive the desert heat.
Offering more than just a visual appeal, trees are frequently chosen based on certain landscape purposes. Whether gusty winds that whip through your property are throwing debris in your eyes or your plants are wilting because of direct exposure to the burning hot sun, trees are a natural solution. Trees even add privacy screening to your backyard or your home's windows, shielding your activities from nosy neighbors.
No nursery understands the various benefits trees provide in Scottsdale, Arizona better than Whitfill Nursery.
There are many factors to consider when selecting a tree for your property. The tree's location, the method and frequency of water as well as the speed with which it grows must all be taken into account. As a grower-direct nursery in the Valley for over 60 years, Whitfill Nursery knows how to gain the best performance from a variety of trees offered at our family tree farm. Learn the benefits of the following tree types: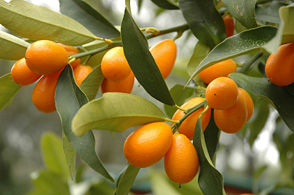 Citrus Trees
– the best citrus you'll ever taste can come directly from your own Scottsdale, Arizona citrus trees. Among the most popular fruit trees in warmer climates, citrus trees add luscious green color to your landscape and provide juicy, sweet fruit for your recipes. Decide among Whitfill Nursery's selection of Lemon, Valencia Orange, Tangelo, Lime, and Grapefruit trees.
Shade Trees
– shade trees reduce the suffering brought on by the Scottsdale, Arizona sun, allowing you to enjoy the outdoors before the sun goes down. With the large canopy offered by trees such as the Oak, Chinese Elm or Maple shade trees, you will begin to spend more time outdoors.
Desert Trees
– while a less hardy tree would shrivel up under the pressure of the desert's harsh sun and severe drought conditions, desert trees flourish in these environments. Pick from a Palo Verde, Sisso, Acacia, Rosewood, Ash, Ficus, or a Mesquite among many others and Whitfill Nursery will provide the knowledge necessary to encourage your desert trees to flourish in the sizzling Scottsdale, Arizona sun.
Flowering Trees
– flowering trees add another dimension to your landscape with bloom colors to suit every taste. Enjoy the lush colors flowering trees like Jacaranda, Oleander, Myrtle, Palo Verde, and Hong Kong Orchid trees provide every season. Whitfill Nursery offers a wide selection of flowering trees ready to complement your landscape.
Palm Trees
– after planting a few palm trees around your pool or along the perimeter of your backyard, you'll begin to believe you've stepped into an island oasis in the Scottsdale, Arizona desert.  Available in a number of varieties including Mediterranean Fan, Mexican Fan, Date, Pygmy Date, and Queen Palm among others, palms provide a tropical island retreat for your property.
A beautiful, plush landscape in Scottsdale, Arizona does not exist with the presence of trees alone.
To provide contrast that appeals to the senses, a professional landscape has trees, shrubs and plants. Any combination of the following plant types will give your property the garden-look worthy of any botanical garden.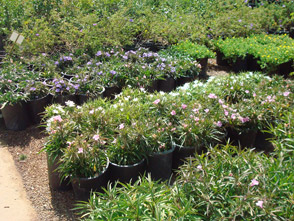 Tropical Plants
– whether you like the exotic characteristics of the jungle or a landscape with island flair, tropical plants are the key to making it happen on your property in Scottsdale, Arizona. For authentic tropical plants that soothe the senses in your own backyard, select among a variety of Whitfill Nursery's tropical plant specimens including Succulents, Banana trees, and Aloha Lilies among others.
Shrubs
– to fill the empty spaces between your trees and your ground cover choose from a variety of shrubs with woody branches, rich green foliage and colorful blooms. Whitfill Nursery can develop the wide open spaces beneath your trees with a variety of shrubs that are commonly found in the desert climate including Hibiscus, Dwarf Oleander, Bougainvillea, Sage, and Lantana.
Uncover all the possibilities available for your outdoor environment with a visit to one of Whitfill Nursery's three Valley locations, you'll quickly uncover all the possibilities for your outdoor environment in Scottsdale, Arizona.
Read our About Us page to discover why after 60 years, Whitfill Nursery is "where we still do the digging". For any questions you may have, we welcome you to use the contact form below.